Hire

We Are

The Top Branding Agency
In San Diego

That Gets You Noticed

.

Important: Powerful branding has the advantage of persuasion. Credibility can be instant; an emotional connection can be kindled, and a fan can be yours without any mention of capability or differentiators. That's powerful. So, imagine how much time, effort and money can be saved if you've built a brand that others will talk about — just because they like you? That's what a brand is and does. It endears potential clients to follow you and talk about you, the way you want them to, especially to the people that matter. That is why we focus on the power and personality of your brand before we recommend spending valuable marketing dollars. We are proud to be one of the top San Diego branding agencies that understands the impact of good branding.
15 Important Deliverables Of High-Profile Branding
Create a high-profile brand that enhances your negotiating power, connects with
audience trigger points, adds personality and likability, outclasses competitors,
and gets more people interacting with your company, products, and services.
High-Impact Brand Messaging

Style Guides & Standards Integration

Strategic Branding Workshops

Target Market Contact Strategies

Strategic Positioning For Each Market

Research & Competitor Evaluation

Game Changers and Brand Attributes Integration

Communications Planning

Branded Company & Campaign Taglines

Branded Company & Campaign Slogans

Brand Mission, Values, & Vision

Brand Pledge & Promise

Branded Marketing Materials

Integrating Branded Graphic Elements & Emblems

Integrating Branded Backgrounds, Headers & Footers
Strong Branding Produces 49% Better ROI
Than Strong Advertising Alone.
The latest joint global research, 'The Brand Value Growth Matrix', by brand consultancies The Partners and Lambie-Nairn, and research firm Millward Brown shows that branding is a better investment for businesses than advertising in the long term, if marketing budget is limited. Brands that invested in strong advertising gained just 27% on brand value, while those spending on strong branding only, enjoyed 76% growth in brand value. Brands that invested heavily in both branding and advertising, showed the biggest growth of 168% in brand value.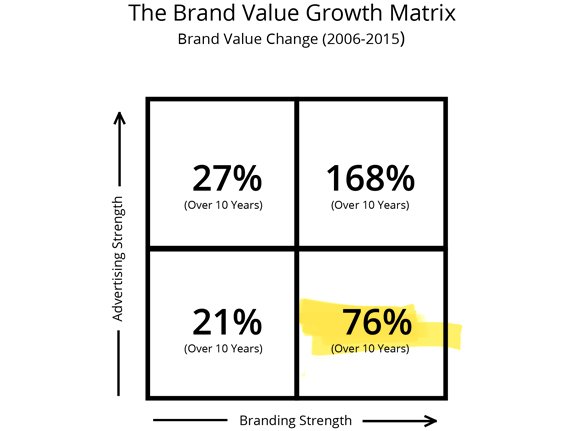 What To Look For When Choosing
A Branding Agency In San Diego.
We very much respect the branding agencies in San Diego, but which branding agency will be the perfect match for you? Here are some questions to contmemplate... Will your branding agency conduct workshops with both decision-makers and people on the front line? Will they research and study your competitors from all angles? Will they understand what it takes to elevate you above them? Will they understand your process from contact-to-contract and how to make it better? Will they uniquely position you to your markets? Will they hand off your brand to interns or will the senior management have their hands in every detail? Do they believe in you, and are they excited about your quest?
We are one of the top San Diego branding agencies according to Clutch.com, and arguably the top agency for branding small businesses. The amount of attention we put into each brand is noteworthy and impressive. Please call us to learn what we can do for your brand.
The Messaging Approach
Great brands are built with powerful messaging. Creating beautiful marketing materials without high-impact headlines narrows your chances for effective marketing. Attention spans are short. People don't read, they scan until a headline grabs them—then they read. Click below to see a collection of great headlines and subheads.