Small Business SEO Marketing Strategies Made Easy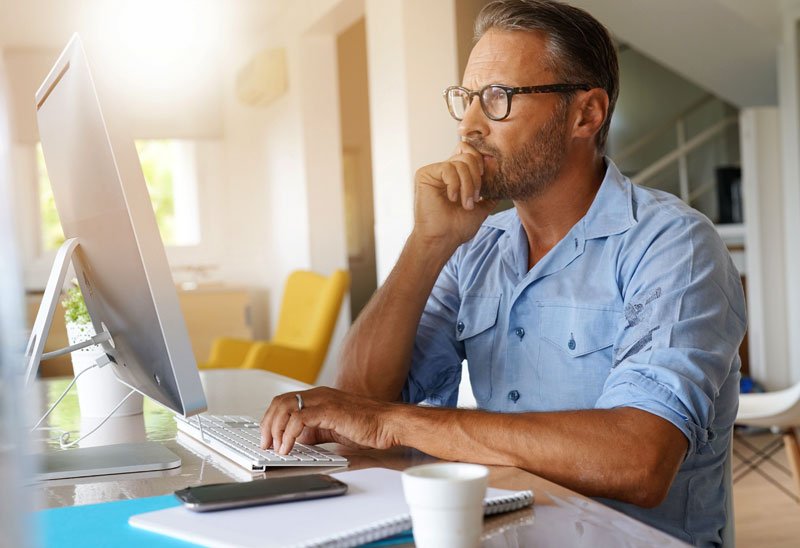 This DIY SEO Tip Still Works
Every small business is chasing the golden ticket to SEO. In such a competitive environment, with Search Engine Optimization playing an imperative role in reaching audiences, figuring out how to get on the first page of Google and other search engines is no easy feat. Even large companies with dedicated marketing teams work constantly to maintain or elevate their Search Engine Results Page (SERP) ranking.
As SEO and the understanding of relative algorithms have evolved, so too have the tactics for getting that proverbial golden ticket, landing that proverbial big one – the coveted first page.
Early SEO Strategies: How We Finally Got It Right.
Believe it or not, in the early days, webmasters and self-proclaimed SEO gurus were actually more on-target than those following relatively recent trends. Website and search engines originally had the same, singular objective, which was to reach users and convert them (be it to purchase, signup, watch a video or read an article). Then came the cannibalistic idea of appeasing algorithms. While this is certainly necessary, the approach of trying to appeal to search engines led good web content to be devoured by bad web content. Search engines hated it, and Internet users were confused and frustrated by all the redundant, hyperbolized, boilerplate messaging. According to Google's Maile Ohye, a Developer Programs Tech Lead, this all went down around 2005.
Luckily, like fashion trends, SEO trends are cyclical. We're no longer in the regrettable "80s Hair-Dos and Neon Spandex" days of SEO, when websites were littered with keywords in vain attempts to nail arbitrary keyword density ratios. Websites are finally coming back around to what's most important for SEO: The User Experience. When a website shows it's putting the user first, meaning pages are easy to navigate and are populated with informative, compelling and cohesive content, search engines reward it with a better ranking.
If your content is like candy (sweet) and your website is up to date, you're on the right track. If not, refine it, test it, refine it some more.
Remember: When It Comes To SEO, Your Website's First Impression Isn't Your Website.
When Internet users search a keyword or a phrase on Google (or on the off chance they use Bing), they're greeted with upwards of 100,000 results. Your website – you hope – is tucked in among the throng of relevant and irrelevant pages. To make it to the top of the Google rankings
takes time and effort. And while an SEO company can help you achieve this goal, there are many strategies that small business owners and marketing managers can do on your own to optimize your site and stand out to searchers.
One of the most important elements of on-site SEO is the snippet. A snippet, as the sobriquet suggests, is a snippet of code, comprised of two main parts: the title element (AKA title tag), which is the blue headline you see when you search a keyword or phrase; and the description, which is the one-to-three sentence blurb you see under the aforementioned title element.
Title tags and descriptions work in two distinct, yet important ways. The title tag is where important keywords should go. Google crawlers will search your site, see your title tag and use it as one of many factors determining your website's relevance. However, it's vital that you don't jam your title tag with keywords; your title tag should instead contain relevant information about your company and the services you provide.
Utilized properly, the code for title elements should be unique for every page of your website. Likewise, it should be updated as your website is updated. For instance, as the Holidays approach, and you have merchandise to move, you'll ideally update your website's snippets to reflect what a great opportunity your audience has to buy gifts for friends, family or – more than likely – themselves. If you have a robust website, this will undoubtedly be a lugubrious process.
There are two viable alternatives: Leaving snippets blank; and using a tag manager.
Leaving a snippet blank won't result in nothing appearing when searchers enter a keyword or phrase to find your website. Instead, Google will parse information from your website and do it for you. This is okay if you're not concerned with how your audience views your search result. But it can leave potential viewers with incomplete information and thus an incomplete idea of what they'll find by clicking through to your site. If you've ever seen ellipses (…) in the tags or descriptions on search pages, it's because Google has combined multiple snippets, or grabbed an unfinished statement. Though it's easy to just let Google do the work for you, the downside is that it often takes months and months for your page to be updated. The result may be missed opportunities to connect with your audience.
Some companies use a tag manager, much like the one offered by Google. This allows you to facilitate the process of managing your snippet. But you do have to get an account.
Identifying Title Tags:
Exploring HTML sounds daunting, especially because you're not entirely sure what HTML stands for. Don't worry, this will be little more than a crash course in dipping your toe in the water.
First, do a Google search for anything you want. Our coffee machine has been broken for a while, jeopardizing the quality of our clients' projects due to insufficient caffeine levels throughout our creative department. So, we used "New Coffee Machine" as our search query. Then we scrolled down to a result that caught our eye. It happened to be from Good Housekeeping.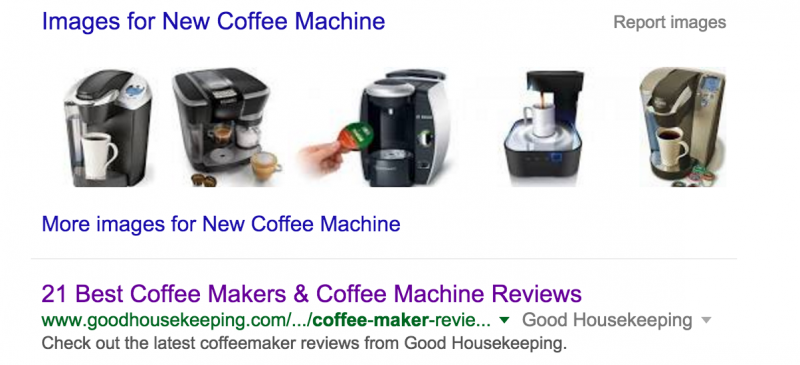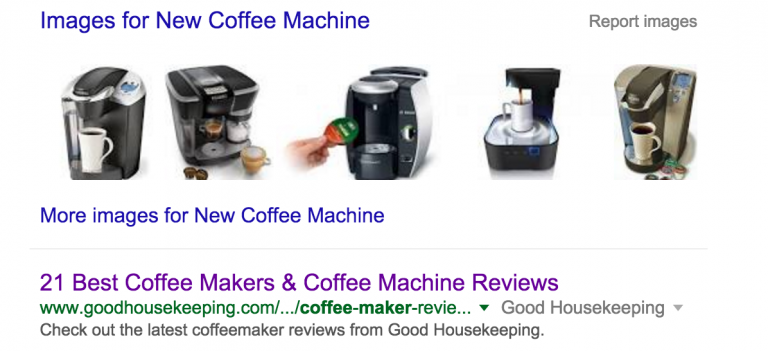 After clicking on the link you like, right click on the web pages background and select "View Page Source" (in Google Chrome; other browsers use different terminology) to view the website's HTML and find the title element. Looking at Good Housekeeping's page source, we see their title tag nestled between the title element…


… and the description under the


See how the search title matches the HTML title element? And how the search snippet matches the snippet of description code? It's pretty apparent that Good Housekeeping tailors their title tags to specific pages on their website, in this case, the page features 21 of the best coffee makers. Now try this with any page on your website. If your pages' snippets aren't descriptive, pay close attention to the tips and instructions below.
(Note that we searched "New Coffee Machine" but the omniscient Google understood "coffee machines" is a relative search to the more widely searched term "coffee makers." And, thus, it drove us to useful information. Good job Good Housekeeping. Props to you, Google.)
Search Engine Poetry: Writing Relevant Snippets
Sitting down to a blank title tag is somewhat akin to sitting down to a blank piece of paper to begin your magnum opus. Relax, here are a few proven guidelines so you know what to do and, more importantly, what not to do.
Know your limits
Unlike your magnum opus, your website's title tags and descriptions can't go on forever. Moz, a leading voice in SEO, recommends keeping your title elements between 55-60 characters for Google results, stating that titles under 55 characters long will show completely around 95% of the time. This is because the perimeter is not the character count, but a 512-pixel display.
As far as your description is concerned, you have about 160 characters to work with before your description is truncated. Bing and Yahoo apparently try to fit as much in as they can, but if keeping it concise means pleasing everybody, why wouldn't you?
It's all about the deets
Write your title tags to be as detailed but concise as possible. We often see DIY websites and those made by template designers lacking in this regard. Google doesn't recommend keeping the page name, such as "home" or "about", in the title or the URL. Instead, make this title coherent, relevant, and interesting. Don't be verbose; be interesting, not impressive.
Stuffing is for turkeys
Google strongly tries to dissuade "keyword stuffing." Jamming your title tags with repetitive keywords or variants of a single word or phrase gives the appearance of spamming and could make your site look untrustworthy to both search engines and searchers. That said, we haven't read a statement from Google outright stating it will punish websites for doing this, but they have stated it won't help your Google ranking. Essentially, it's better to not look like a used-car salesman, even if you are a really, really good used-car salesman.
Your 15 seconds of fame
Most users know what they're looking for when they search a keyword or phrase, meaning your snippet only has a snippet of time to snag their attention. This is where our branding can come into play. If you're a previous or current client, consider using the tagline, slogan, positioning statement or combination thereof that we created for you in your title tag and/or description.
For example, if San Diego Small Business Marketing Services (SDSBMS) merged with Marketing and Advertising Design Group (MAD Group) to create a single, San Diego-based super agency, we might combine the SDSBMS tagline with the MAD slogan for a title tag which reads, "Practical Action-Steps To Make Your Business Matter More." That should catch users' attention, and at 57 characters it should appear perfectly on all SERPs. We'll then entice users with a relevant, interesting, and coherent description so they know to click through for a great marketing experience.
Get Definitional – Descriptions should be descriptive
A great SEO tip is to create a unique description for every page, i.e. an informative snippet for every page of your website. Even for things like team bios, a detailed description (like facts and stats) will help users know exactly what's on your page. This means you could be more likely to attract readers attention.
Quality counts.
Search engines strongly encourage webmasters and anyone managing a website to aim for high-quality descriptions. Because the meta descriptions aren't displayed in the pages the user sees, it's easy to let this content slide," Explains the Google webmaster support page. "But high-quality descriptions can be displayed in Google's search results, and can go a long way to improving the quality and quantity of your search traffic."
Okay, young grasshopper, you're ready to optimize.
Great, you've now got an overview of how title elements and description code work. Not to mention, you've probably come up with some descriptive, relevant, interesting tags that you want to use to attract visitors to your site. If so, it's finally time to start implementing them.
Editing Title Tags and Descriptions In Joomla
If you have a Joomla website, changing the title tags is easy. Install the plugin called sh404SEF, if it's not already installed.
1. Under Components, go to sh404SEF, then click Url manager.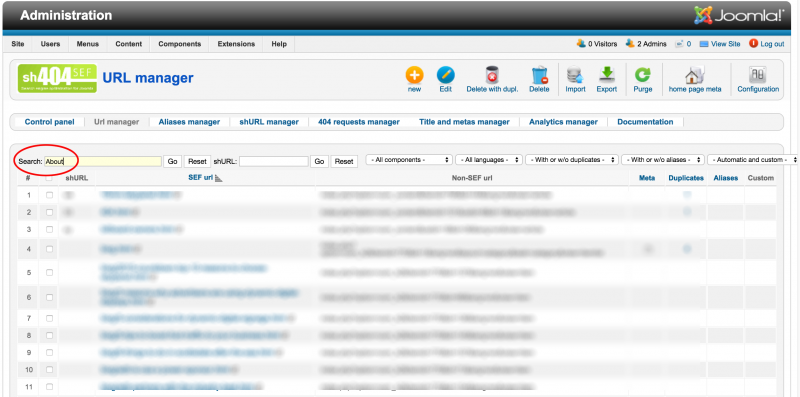 2. Once you're in the URL Manager, type into the Search bar the name of the page you want to give a title tag and description tag to. For this example, we used the About page. Then, select the correct page from the list. Next, click on Title and Meta Tags. Fill in a great title tag under Page Tag and an interesting and informative description under Description Tag. That's it!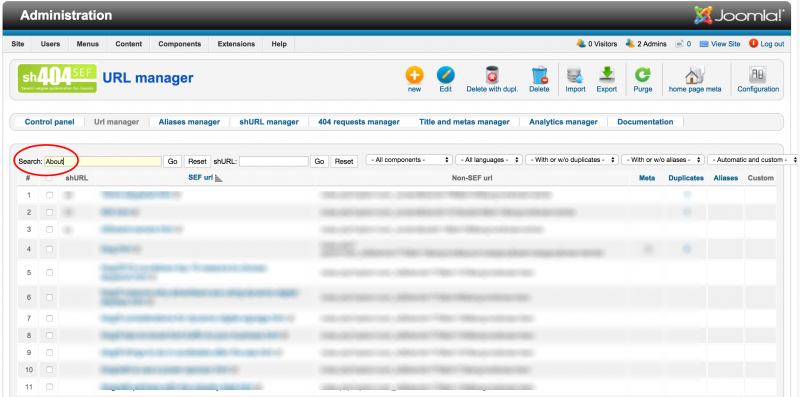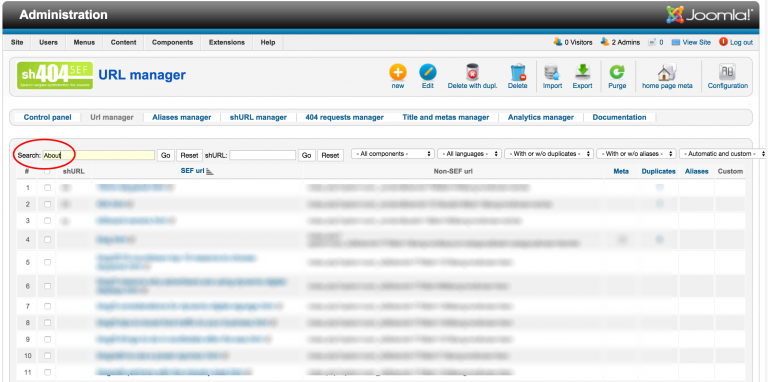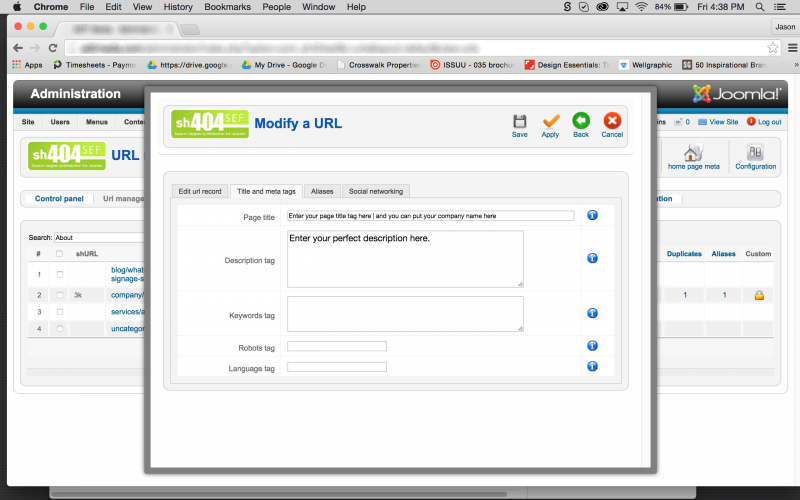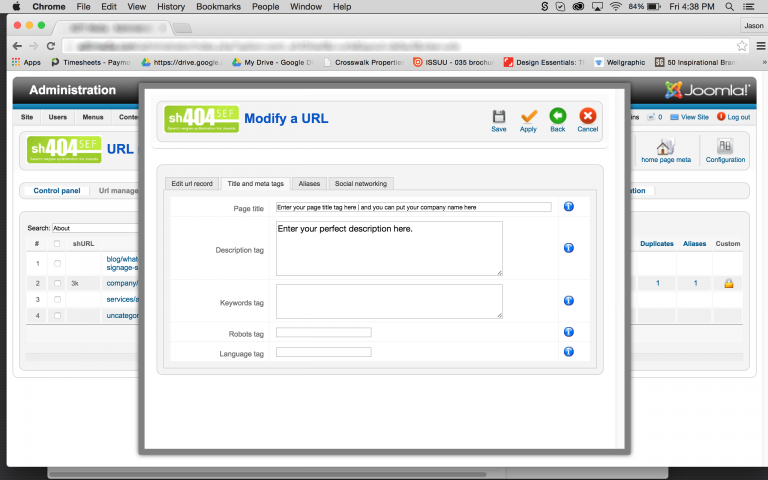 Editing Title Tags and Descriptions in WordPress
If you have a WordPress site, changing the title tags is easy. Install the plugin called Ultimate SEO, if it's not already installed.
1. Log into your Admin.
2. Under the Dashboard menu, click on Pages and select the page you want to give a title and description tag to.
3. Scroll down to the SEO Settings. From here you can edit the Title Tag and Meta Description under Search Engine Listings, as well as in the Social Networks Listings.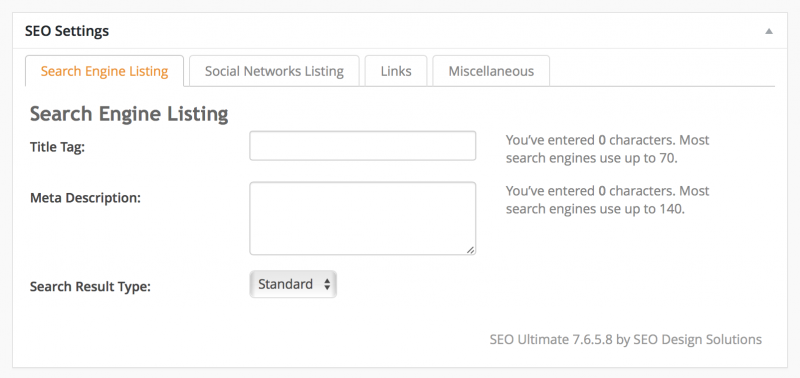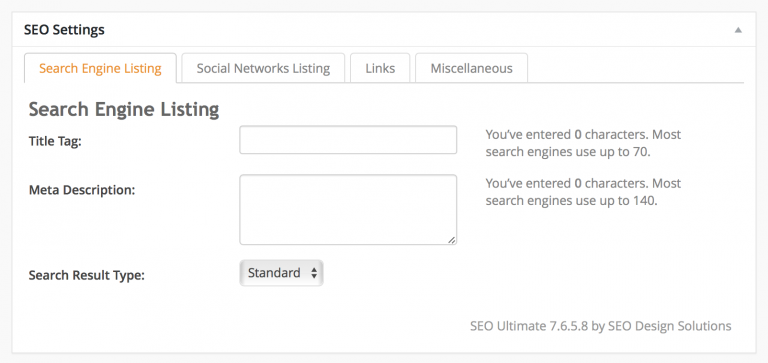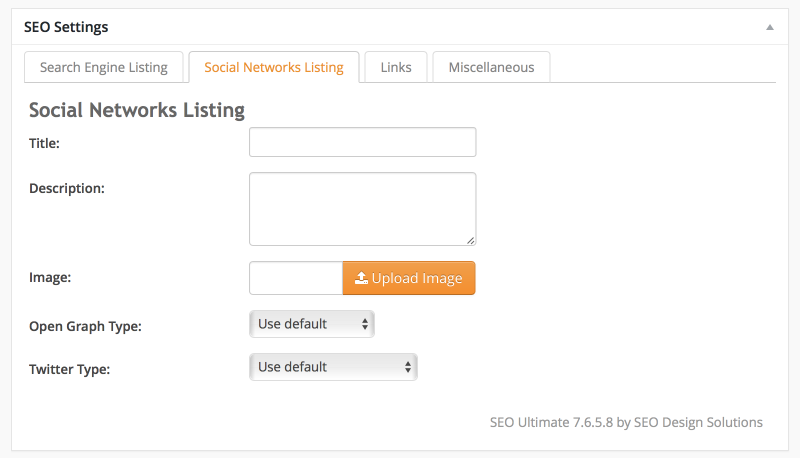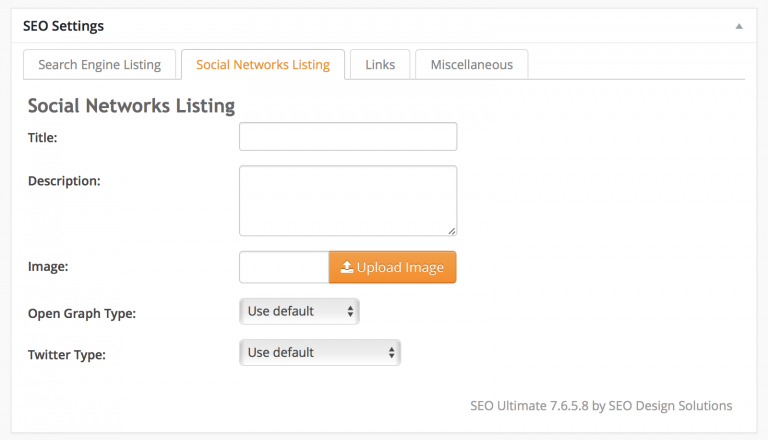 Alternatively, you can roll over SEO towards the bottom of your menu panel. Then click on Meta Descriptions. Select the Pages tab to enter the meta description you want into the text box.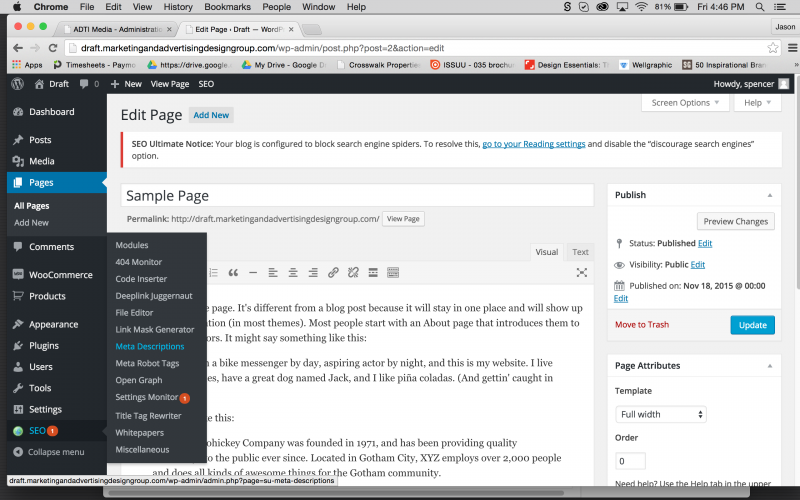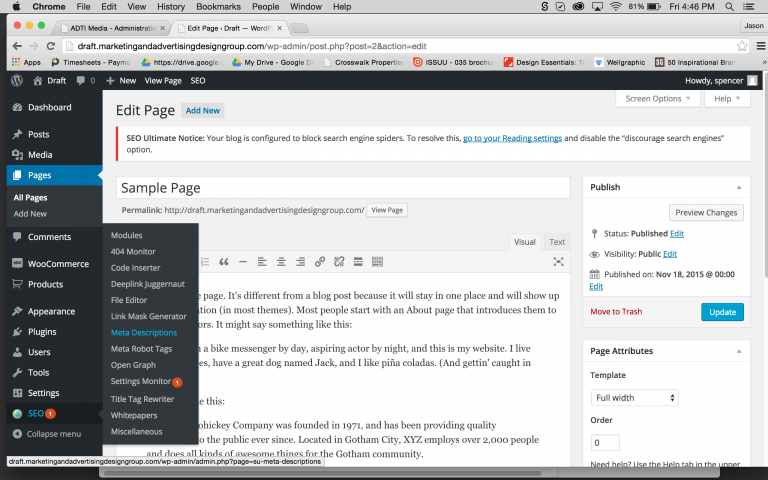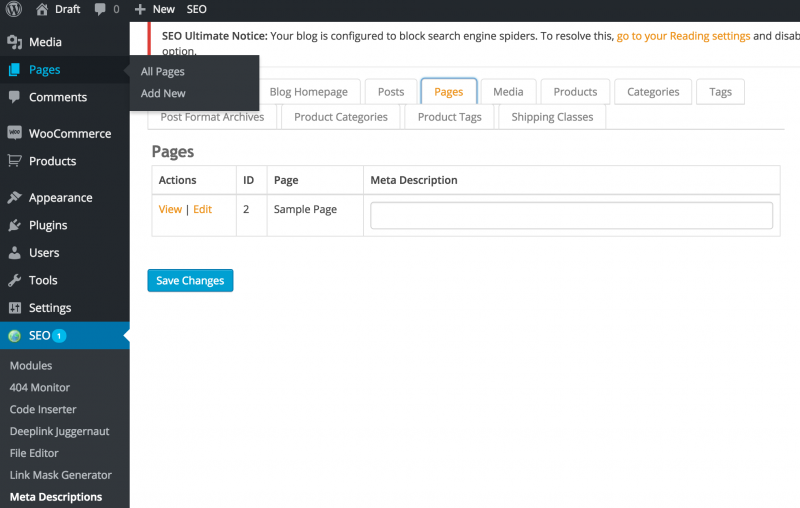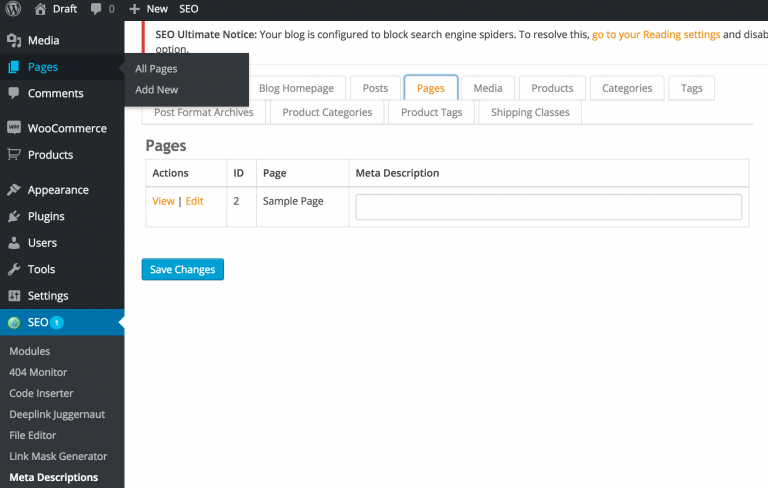 That's All Folks!
And so, there you have it. Now, we certainly must impress that there is much more to SEO than perfect snippets. A lot has to do with the content quality and user interface of your website. A lot more has to do with the amount traffic your site receives, strategic and high-quality link building, and even popularity from social media platforms. However, having an appealing snippet for each page, with informative and well-crafted title elements and meta descriptions in place, will only work to your benefit.
We encourage all of our clients give this a try. Most clients will have experienced our one-hour web training session, which establishes a foundational understanding of entry-level website maintenance. If you've taken this course, you should do just fine.
If you simply don't want to hassle with code, or don't have the time to go through each page of your website, feel free to give M.A.D. Group a call. Our web designers can populate each page with title tags and meta descriptions for you. Just supply the descriptions you'd like to use. If writing isn't your forte, our copywriter can craft creative and relevant descriptions for you.