The Revolution of Trade Show Marketing: The Top Trade Show Marketing Trends of 2022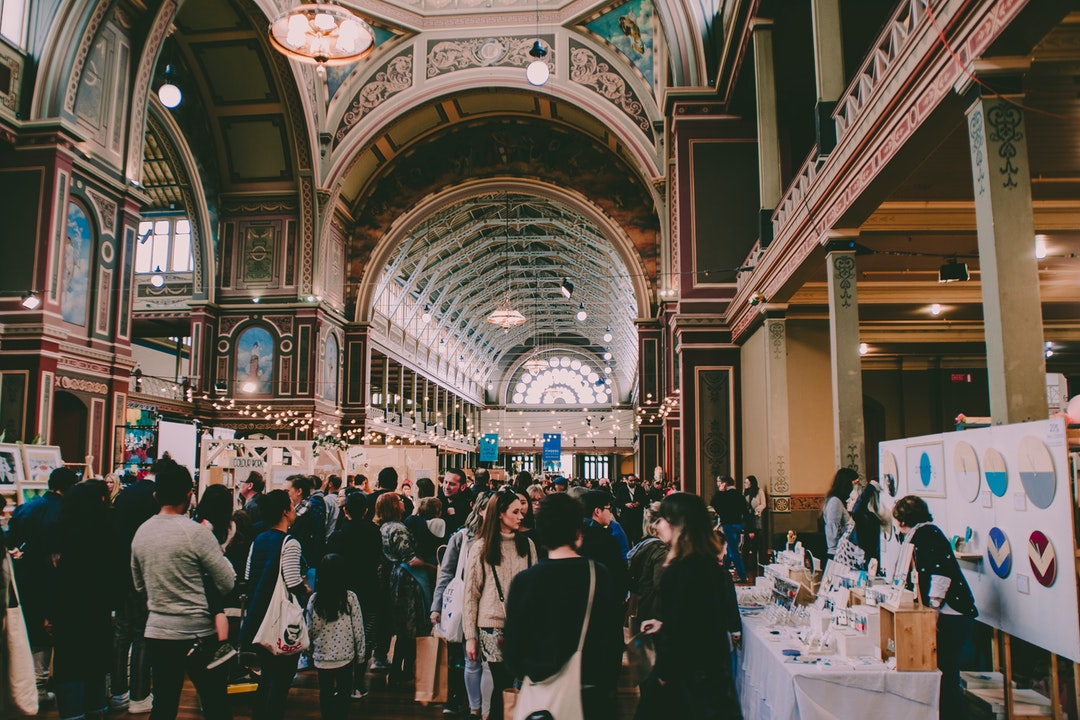 Advances in technology have made the world more connected than ever. But nothing beats the human connection.
That's why even in today's society, trade show marketing continues to be one of the best ways to reach out to your audience and make new connections.
While trade shows rely on good old-fashioned human connection, there's nothing old about these innovative trade show ideas for 2021.
1. Minimalist Design
Leave the bells and whistle at home. The trade show booth of today is streamlined and focused on offering an open, welcoming space for prospects to come in and learn more about your products through conversation.
Ditch the text-heavy displays and only provide pertinent information on your booths. No one is going to stand there and read the text on the booths anyway, it clutters the space and can be overwhelming.
An open space design is welcoming to attendees and encourages mingling and may make them stick around longer to learn enough about you to leave them wanting more…and leave you with their contact information.
2. Comfort
Some companies focus so much on the booth panels that they disregard one of the most important aspects of the show–the attendee. Like the minimalistic booth, a booth with chairs and sofas (even bean bags!) will keep attendees comfortable.
Trade shows are a lot of work and involve a lot of walking. By offering a lounge area where attendees can sit and unwind, you'll draw in a larger crowd and open up the opportunity for conversation.  It's a great way to learn more about them while you have them at the booth.
Offer snacks and beverages so they feel pampered. Extra points if you also have a charging station.
When they leave they'll remember the experience and they'll probably refer others to your booth.
3. Socially Conscious Activity
Consumers today will often choose a company that aligns with their beliefs and more and more buyers target eco-friendly, socially responsible brands.
A socially conscious company can integrate their cause with their trade show booth to display their Corporate Social Responsibility (CSR) actions and connect with like-minded customers.
To display your company's CSR beliefs, you could do a fundraising activity or hold a product giveaway. First, you'll want to create a buzz around whatever activity you choose.  And that starts before the trade show.
Email your lists and let them know you'll be at the show and what you're doing. Blog about it and announce it in a press release. If you're holding a fundraiser tell your prospects how they can get involved.
4. Multi-Sensory Experience
It's no longer just about the booth's design. Revolutionary trade show booths include items that appeal to the five senses. Think appealing sights, smells, and flavors. The trade show has become a full-blown experience.
Put products on display to feel. A greetings card company could have a sample of different card stock on display shelves. Attendees can touch and feel the product and take some samples to look over later.
Take a unique approach and offer foods that you can align with your brand. For example, a business with an elephant logo could provide peanuts at their booth.
5. Virtual Reality
Trade shows are great for that human connections but technology has a place in helping you stand out. There's a ton of potential for Virtual Reality (VR) in trade show marketing. Who doesn't want to get away from reality for a while and just play?
VR can help you attract customers to your booth and keep them engaged. Whatever your product, if you can incorporate that with VR and get attendees' attention, you'll stand out and they'll remember you.
Incorporating VR into your presentation shows that your brand is keeping up with technology trends.
6. Integrated Marketing Strategy
Marketing doesn't start at the trade show. The trade show is part of a larger message and can be used as the culmination of your marketing efforts. The lead up to the trade show should include blog posts, website content and social media messaging.
Podcasts are another option to provide listeners with an insight into what to expect at the show and where to find you. Send emails to your lists that include your booth number along with all the information about the trade show.
These activities should start weeks or months before the show to entice prospects to come and see you. While you're at it, invite them to your booth for a giveaway.
7. Customer Focus
What happens at the trade show doesn't have to stay at the trade show. No really, take the show off the floor and hold an off-site event for your qualified leads. It will make them feel special and it will allow you to connect with them outside of the hustle of the show floor.
This can be as simple as an informational session to a more in-depth themed event or cocktail party. Incorporate your brand by adding the logo to the napkins or even wine glasses that double as a take-home gift.
Take this opportunity to introduce prospects to your executive team or CEO. This provides an opportunity they wouldn't otherwise have to really get to know the people behind the company.
Trade Show Marketing Success
While trade show marketing has changed throughout the years, one thing hasn't…the human connection should always be at the forefront. Regardless of whether you're incorporating virtual reality into your booth, pleasing the five senses or doing a trade show giveaway, it's all about connecting with the attendees.
This combined with providing an inviting environment that caters more to attendee needs than yours will allow you to connect with them better than ever before.
Visit us here for more marketing strategies that will make your company stand out.